Not Too Much Chocolate Cake
|
Not Too Much Chocolate Cake
Recipe is a keeper.  Not just a cake mix….has pudding, sour cream, & chocolate chips.  Very easy to make.  A heavenly bite when eaten with vanilla ice cream and chocolate sauce.
Many reviewers recommended cutting the oil to 1/2 cup, adding 1/3 cup of milk & cutting back on the chocolate chips to approximately 1 1/4 cups.  Cake is plenty without the glaze; however, it makes a special cake with the glaze.
With that being said, if you put less oil in this Not Too Much Chocolate Cake recipe, your cake may not be as moist.  Be sure to use good chocolate.  Make it exactly the way the recipe calls & you will be rewarded!
Not Too Much Chocolate Cake Recipe

12 servings

1 (18.25 ounce) package devil's food cake mix
1 (5.9 ounce) package instant chocolate pudding mix
1 cup sour cream
1 cup vegetable oil
4 eggs
1/2 cup warm water
2 cups semisweet chocolate chips
Optional: Powdered sugar instead of glaze

Directions
Preheat oven to 350 degrees F (175 degrees C).

In a large bowl, mix together the cake and pudding mixes, sour cream, oil, beaten eggs and water. Stir in the chocolate chips and pour batter into a well greased 12 cup bundt pan.

Bake for 50 to 55 minutes, or until top is springy to the touch and a wooden toothpick inserted comes out clean.

Cool cake thoroughly in pan at least an hour and a half before inverting onto a plate.

If desired, dust the cake with powdered sugar.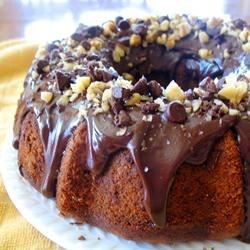 Satiny Chocolate Glaze Recipe

Double the recipe if you really want plenty of glaze on top to drizzle.

Ingredients

3/4 cup semisweet chocolate chips
1 tablespoons butter
1 tablespoon light corn syrup
1/4 teaspoon vanilla extract
Optional: Chopped pecans, chocolate or white chocolate chips

Directions

Combine butter and corn syrup, mix together on low heat in a sauce pan.
Take off heat and then add chocolate chips.
Stir until chips are melted and mixture is smooth, then add vanilla.
Spread warm glaze over top of cake, letting it drizzle down the sides.
Optional: Sprinkle chopped pecans, favorite nut, or chocolate or white chocolate chips on top.
Special Thanks To Denise/AllRecipes For Recipe Posting & Image Screenshots.