Halloween Trifle
|
Black Velvet Halloween Trifle
Vivid colours make this an exciting Halloween Black Velvet Trifle.  A black cake against vibrant orange pudding sets it off.  Chocolate plus butterscotch pudding …… YUM………..you wanna dig in with 2 spoons!!
Make it with a boxed brownie mix instead.  Let the brownies cool & cut into bite size chunks.  If you don't like butterscotch pudding….use vanilla pudding tinted with orange food coloring.  Top it off with cool whip & candy corn.
We make a trifle similar to this….using caramel sauce & brownie pieces with chunks of chocolate….HEAVEN!!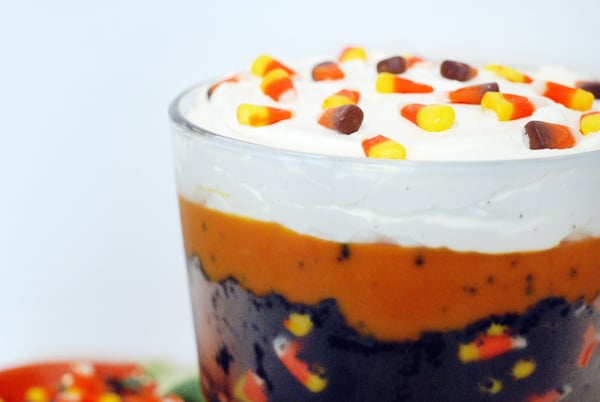 Adapted from AllRecipes.com

Cake Ingredients

1/3 cup Shortening
1 cup White Sugar
2 Eggs
1 tablespoon Sweetened Cocoa Powder (Used Scharffen Berger)
1 tablespoon Black Coca Powder (may be omitted, but add 1 tablespoon unsweetened cocoa powder instead)
2 oz black food color (2 bottles)
1 teaspoon Salt
1 teaspoon pure vanilla extract
2/3 cup Buttermilk
1 2/3 cups All-Purpose Flour
1 teaspoon Baking Soda
2 teaspoons Distilled White Vinegar

Cake Directions

Preheat oven to 350°F. Grease two 8″ round cake pans with baking spray or extra shortening.
In a large bowl, cream together shortening and sugar until light and fluffy. Add eggs, one at a time, mixing thoroughly after each addition until egg has fully incorporated and mixture is again light and fluffy.
In a small bowl, make a paste of the cocoa powders and food coloring. Add this to the creamed mixture in the bowl, and mix thoroughly.
In a measuring jug, mix salt, vanilla extract and buttermilk. In a small bowl, measure out flour, and whisk it well to aerate.
Alternate adding the buttermilk mixture and whisked flour to the creamed mixture until all are incorporated well.
Measure out baking soda in a bowl, and then add vinegar – be prepared that this will foam up a bit.
Immediately add it to cake batter, folding it in with a rubber spatula. Do NOT mix with an electric or stand mixer after adding the vinegar-soda mixture.
Pour batter in equal parts into each pan, and bake for approximately 22-25 minutes, checking often after 22 minutes for a toothpick to remove cleanly when inserted into the center of each cake.
Allow to cool completely.

Butterscotch Pudding Recipe

Pudding Ingredients

(2) 3.4 oz boxes Butterscotch Pudding
4 cups cold Milk (or as directed on pudding box instructions)
12 drops red food coloring
20 drops yellow food coloring

Pudding Directions

Pour butterscotch pudding mix, food coloring and four cups of cold milk into a large bowl.
Using an electric mixer, whisk for for approximately 4 minutes, until pudding starts to thicken and you have reached desired color (add more of whichever color you think you need to reach the shade you want now).
Place in the refrigerator for 5-10 minutes, or until ready to assemble the trifle.

Fresh Whipped Cream Recipe

Note:  If don't want fresh…..cool whip works great.

Whipped Cream Ingredients

1 pint Heavy Whipping Cream
1 tablespoon pure vanilla extract
5 tablespoons White Sugar

Whipped Cream Directions

Place all ingredients in a large bowl and mix with an electric or stand mixer until the cream forms stiff peaks.
Refrigerate any unused portion in an airtight container for 1-2 days.

Preparing Black Velvet Trifle

Break cooled cakes into large chunks either by hand or by chopping with a knife – 1″x 1″ or chunks are fine. Mix in approximately 1 cup of candy corn, using a fork to distribute.
Spoon well chilled butterscotch pudding directly on top of cake, smoothing with a spoon or spatula. Cover with plastic wrap and refrigerate if not serving immediately.
Just before serving, spoon freshly whipped and sweetened cream directly on top of pudding and garnish with more candy corn.

Special Thanks To Amber – BlueBonnetBaker For Recipe Posting & Image Screenshots.