Easy Halloween Bars
Yummy Frosted Sugar Cookie Bars
Love sugar cookies!  Sometimes we don't have time to bake our favorite cookie because we have to make several batches.  No place to store several cookie pans……..so we have to let the cookies cool slightly on the pan & then transfer to a wire rack.  Takes more time & the cookies are worth it!
What's nice about baking Halloween Sugar Cookie Bars is you only have to use one pan.  It saves time especially if you have to dress the kids & hubby too…… before you head to your favorite Halloween party.
These bars are so sweet & soft……they make the perfect treat.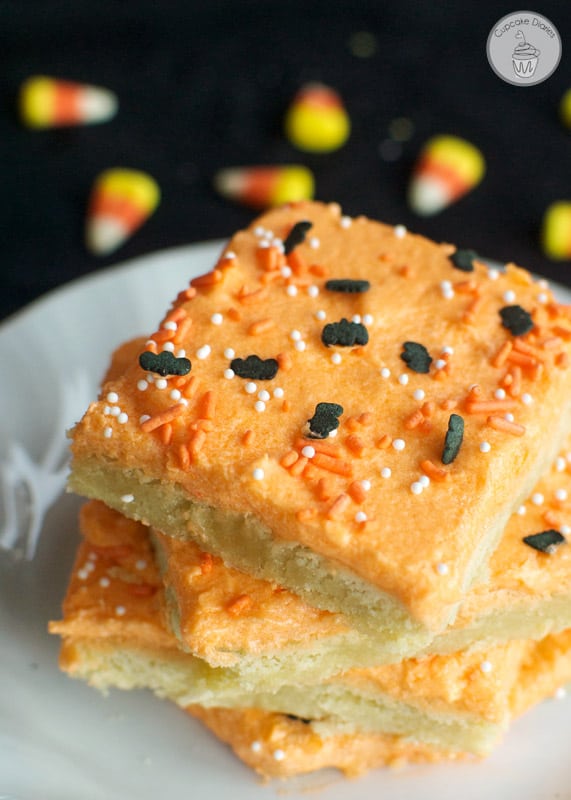 Halloween Sugar Cookie Bars

Cookie Ingredients

1 c. butter, softened at room temperature
2 c. sugar
4 eggs
2 tsp. vanilla
1 tsp. salt
1/2 tsp. baking soda
5 c. flour

Frosting Ingredients

2 1/2 c. powdered sugar
1/2 c. butter, softened at room temperature
1/8 – 1/4 tsp. almond extract
3 Tbsp milk
orange food coloring
Halloween sprinkles

Instructions

Grease a standard rimmed cookie sheet (about 12×17) and set aside.
Cream together butter and sugar on medium speed. Add eggs one at a time, allowing each egg to be incorporated into the mixture. Scrape the sides of the bowl and add vanilla; mix well.
Whisk together salt, baking soda, and flour in a medium bowl. Slowly add to the sugar mixture until just combined.
Press the dough evenly into the greased cookie sheet. Bake at 375° for 15 minutes until lightly golden. Remove from oven and set aside to cool.
Prepare frosting by using an electric hand mixer to beat the butter until smooth. Then add 2 Tbsp milk, a small amount of food coloring, and almond extract; mix together.
Add powdered sugar about a half cup at a time to avoid a mess. Add 1 Tbsp milk and combine. At this point you can add more food coloring if you want to darken the color of the frosting.
Frost sugar cookie bars and immediately add sprinkles. Cut into about 36-40 bars. Store in an airtight container. These can be easily made the day before you need them and stored to serve the next day.

Special Thanks To Alli – CupcakeDiariesBlog For Recipe Posting & Image Screenshots.