Best Pumpkin Cupcakes Ever!
|
Cinnamon Cream Cheese Pumpkin Cupcake
Cinnamon and cream cheese frosting….you can't go wrong here.  The little pumpkins on top make it so cute.  The pumpkin puree and vegetable oil make these cupcakes light and moist.  The fluffy cinnamon cream cheese frosting will have you licking your fingertips.
Simple and gorgeous cupcakes for Fall, Halloween, and Thanksgiving.  Really smells good in our house when baking.  You could make this recipe into a big cake instead of cupcakes if you know what you are doing.  If no baking powder, substitute with baking soda and cream of tarter.
The recipe makes a small batch.  If you want more than 12 cupcakes, double the batch to make 24 cupcakes.  Making 36 cupcakes, triple the recipe.
Garnish them with chopped walnuts or pecans if you don't have any pumpkin candy.  You'll want to get the candy because that's what makes these cupcakes so adorable.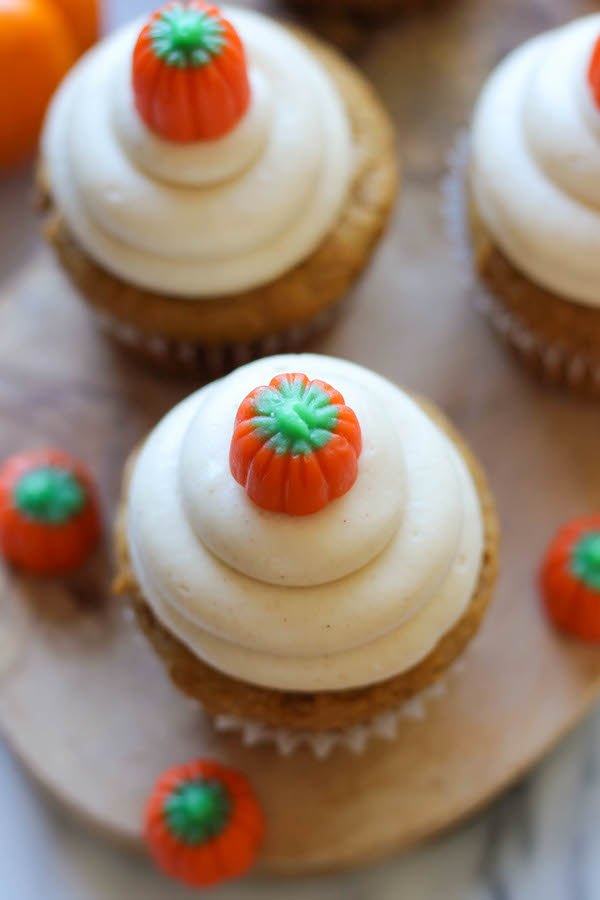 Photo Credit: DamnDelicious
Pumpkin Cupcakes with Cinnamon Cream Cheese Frosting Recipe
These pumpkin cupcakes are super light and moist, topped with a fluffy cinnamon cream cheese frosting, leaving these to be the best pumpkin cupcakes ever!

Ingredients

1 cup all-purpose flour
1 teaspoon pumpkin pie spice
1 teaspoon baking powder
1/2 teaspoon cinnamon
1/2 teaspoon baking soda
1/2 teaspoon salt
1 cup pumpkin puree
1/2 cup sugar
1/2 cup brown sugar, packed
1/2 cup vegetable oil
2 large eggs

For the cinnamon cream cheese frosting

12 tablespoons unsalted butter, at room temperature
1 (8-ounce) package cream cheese, at room temperature
3 cups confectioners' sugar
1/2 teaspoon vanilla extract
1/2 teaspoon cinnamon
9 mellowcreme pumpkins candy, for garnish

Instructions

Preheat oven to 350 degrees F. Line a 12-cup standard muffin tin with paper liners; set aside.
In a large bowl, combine flour, pumpkin pie spice, baking powder, cinnamon, baking soda and salt.
In a large glass measuring cup or another bowl, whisk together pumpkin puree, sugars, vegetable oil and eggs.
Pour mixture over dry ingredients and stir using a rubber spatula just until moist.
Scoop the batter evenly into the muffin tray. Place into oven and bake for 15-18 minutes, or until a tester inserted in center comes out clean. Remove from oven and cool completely on a wire rack before frosting.
In the bowl of an electric mixer fitted with the paddle attachment, beat butter and cream cheese on medium speed until light and fluffy, approximately 2-3 minutes. With the mixer on low speed, gradually add confectioners' sugar, beating just until incorporated. Add vanilla and cinnamon until well combined. Increase speed to medium high and beat until frosting is light and fluffy, approximately 1-2 minutes.
Use a small offset spatula or a pastry bag fitted with decorative tip #807 to frost the cupcakes, garnished with pumpkins candy, if desired.

Notes
Adapted from The Cake Blog and The Cupcake Suite
Special Thanks To DamnDelicious For Recipe Posting & Image Screenshot.
Photo Credit: TheCakeBlog